WDR (Wide Dynamic Range)
The WDR function is intended to provide with clear image performance in strong backlight areas such as exterior light coming through a window or glass door. High contrast light conditions are no longer a problem when you need to capture detailed images.

Conventional Camera                                    WDR Camera
ICR (Infrared Cut filter Removal)
An IR filter – or IR cut filter – is a color filter blocking the infrared light. In order to avoid unwanted side-effects caused by infrared light (as part of the natural ambient light) during image recordings in daylight mode, an IR Cut Filter is installed in front of the sensor. The filter is meant to prevent the incidence of light onto the image sensor.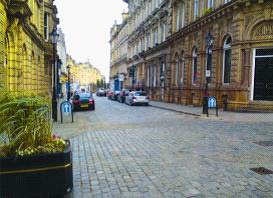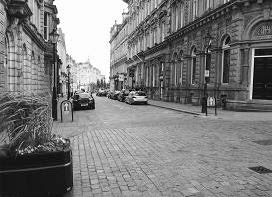 When ICR is on, camera is able to increase highly its light sensitivity in monochrome mode.
BLC (Backlight Compensation)
Backlight is the light behind the object of interest in a scene. Back Light Compensation BLC automatically brings more detail to darker areas of an image when bright light shining from behind obscures it and provides perfect exposure for an object in front of very strong back light. The electronic shutter of the camera basically adjusts its exposure to try to allow for more light to be allowed in the darker areas.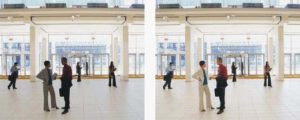 Conventional Camera                                     Camera BLC
Privacy Mask
Privacy masking is a common term covering the need to restrict what can be seen by camera. It applies equally to image displayed in real time basis for surveillance purposes and image recorded for later use. This function is use to protect personal privacy by concealing part of the image from view with a masked area.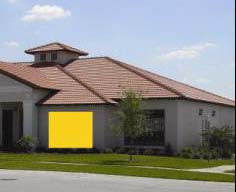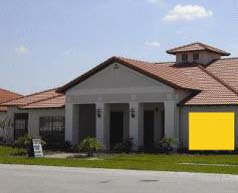 By avoiding privacy infringement issues, this function allows users selecting several sensitive
areas to blocked undesirable monitoring.
HLC (Highlight Compensation)
It is ability to reverse bright points in the picture to black. As an effective approach to recognize vehicle's number-plate at night, HLC function can detect any spotlight diffused by object-vehicle and compensate it for obtaining clearer image.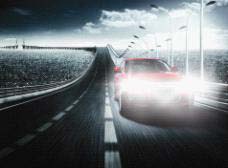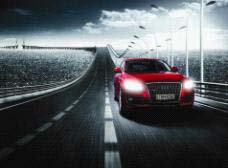 HLC Off                                                 HLC On
AWB (Automatic White Balance)
Color temperature is directly related to environment and it influences on the color of image. AWB automatically adjusts the white balance in response to varying light conditions to reproduce accurate color without any color-cast caused by different lighting source (ex. Incandescent, fluorescent and quartz light).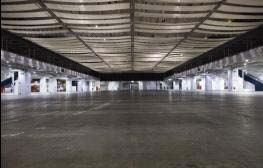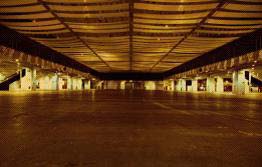 Conventional Camera                                 Camera with AWB
Super Low Light Performance
With advanced ISP technology, Hikvision's cameras provide ultra high sensitivity allowing visibility in very dark conditions.

Conventional Camera                                    Camera with ISP
Automatic Gain Control
It's a form of amplification where the camera will automatically boost the image received in much lower light conditions than standard in order to
optimize the clarity of image in poor lit scene.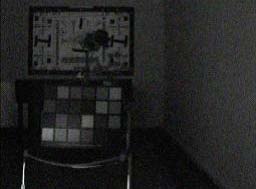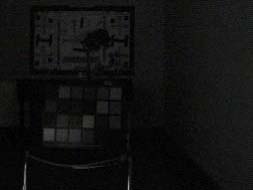 With AGG                                                    Conventional Camera
3D Intelligent Positioning
A easy-to-use function enabling user to track and zoom out any suspected objects by simply drag-and-click mouse.
3D DNR (Digital Noise Reduction)
Compared to traditional DNR technology, 3D DNR can decrease the noise effect, especially when capturing moving images in low light conditions and delivering more accurate and sharp image quality.

Conventional Camera                                     Camera with 3D DNR
Smart IR
In some case of misjudging the length of IR range and subjects, IR cameras lead to frequently over-exposed subjects.  That;s why smart IR is there to solve this type of issue by adjusting automatically IR light and based on subject's distance, resulting in a clear image that is not washed out or too dark.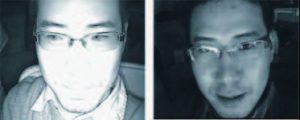 General IR Camera                                                    Smart IR Camera
DIS (Digital Image System)
Developed by Hikvision, this industry-advanced technology with excellent image quality, low power consuming and high reliability, can provide a perfect
cost-effective alternative to traditional analog cameras.
November 7, 2017
Categories: